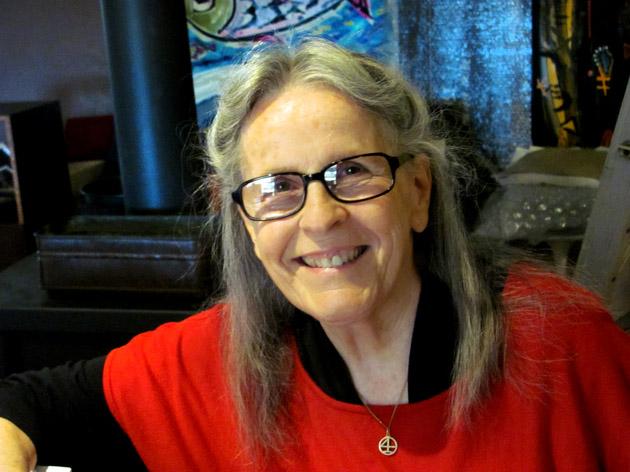 Dorothée's dynamic, colourful paintings are distinguished by her graphic use of black linework which is created using a cotton tip, rather than a brush.
Her works will take form in her mind for days, weeks and sometimes even years before being produced in an explosive matter of hours.


Hunter Valley artist Dorothée Heibel (née Oetterli), was born in 1946 in the Swiss-German town of Solothurn - the ancient seat of the French Ambassadors, nestled in the foothills of Switzerland's Jura Mountains. Her father August 'Guggi' Oetterli was a Graphic Designer by trade and much loved town character and Dorothée remembers that although money was scarce, art, music and humour very much formed part of everyday life for herself and her siblings.
In 1967 Dorothée satisfied her love of crafts by attaining a Pre-School Teacher's Diploma and taking up various posts in Switzerland. However, the chance meeting of a lovely young German engineer was to change the course of her life. She married Detlef within a year and Dorothée has fond memories of those early years with a young family which were filled with extensive world travels (including a two year work-placement in Sydney, Australia) the move to and renovation of a beautiful old Swiss farmhouse and the adoption of a Korean-born son - to the delight of their two daughters. In 1983 Dorothée and her husband made the difficult decision to leave Switzerland and settle in the country that had stolen their hearts - Australia.

Over the years that followed Dorothée assisted her husband in the businessof importing Swiss Quality Products, introducing Swatch Watch to Australia, as well as dabbling in designing logos, watch faces and various corporate images. Once her children began to become independant, however, the urge to paint became strong.
She entered a work in the 1991 Mosman Art Prize and was selected by the adjudicator, William Wright (then Assistant Director at the Art Gallery of NSW) to be amongst the 50 selected finalists to be included in the Council Chambers Exhibition. Her painting 'The Fish' was snapped-up by avid art collector Reg Richardson and this gave her the courage to pursue her painting career in earnest.
Present day, Dorothée is a well established artist based in the Hunter Valley Wine Country. She has won awards, worked on commissions, is an exhibiting member of the Australian Society of Miniature Art and her paintings are held in public and private collections.

'I see my work as a way of celebrating the bright side of life and capturing those moments of absolute joy and contentment.'